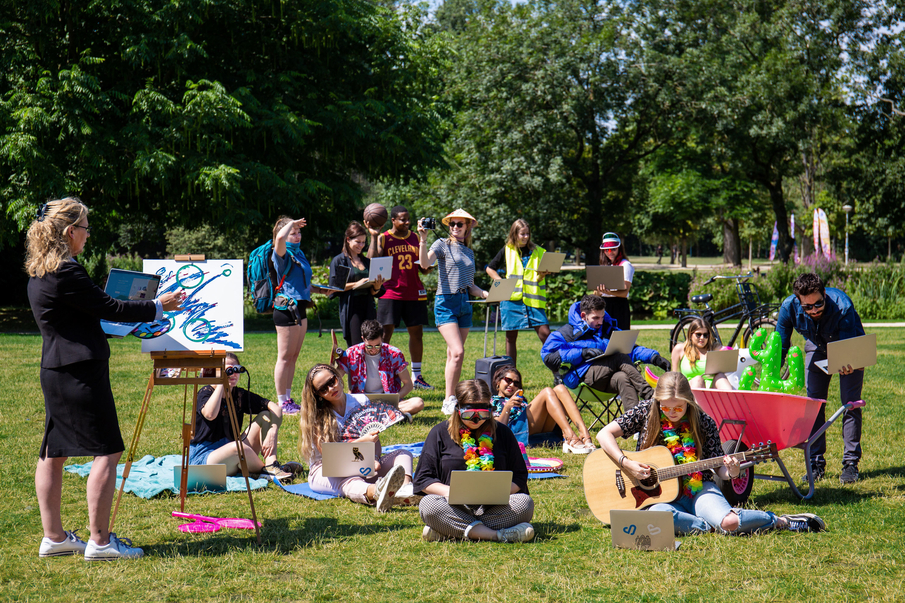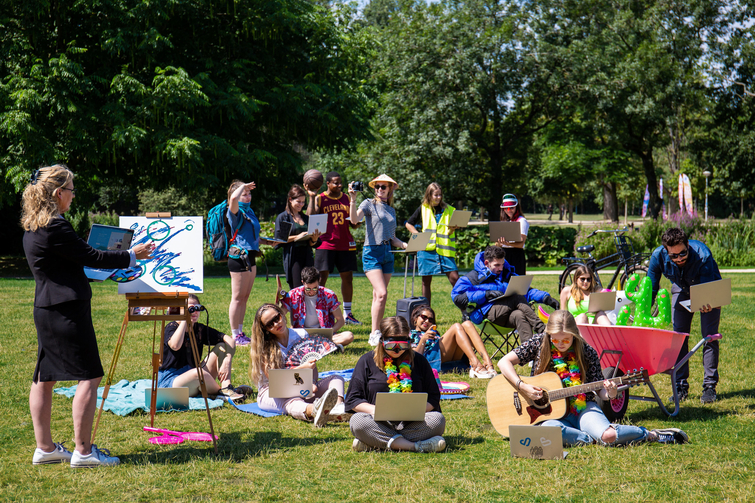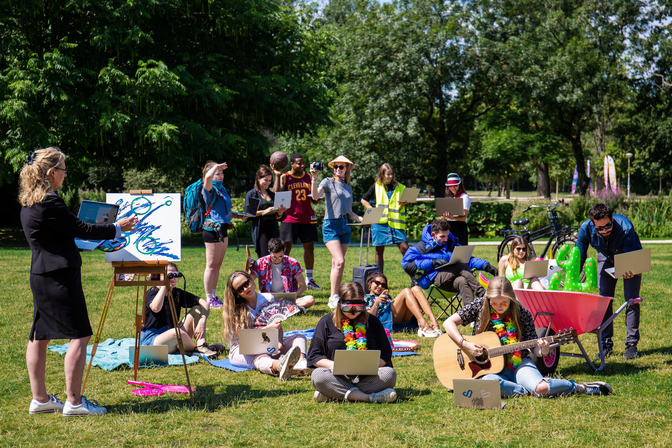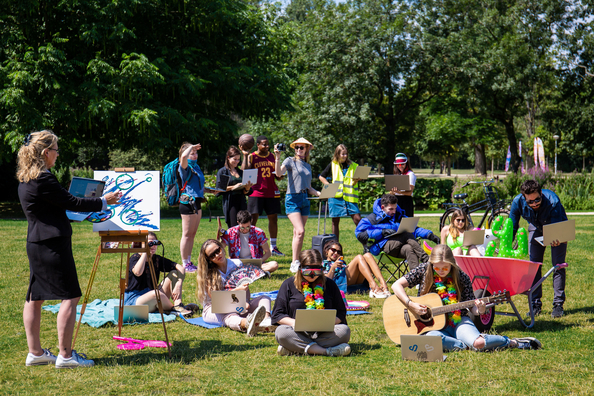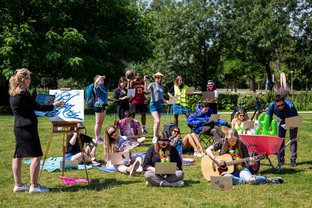 For the third year in a row, we're closing all 7 of our offices for one week over summer; allowing our 350-strong team to work on their own terms—whether that's from home, a co-working space, a favorite cafe, or the park!
Bynder already offers perks such as unlimited paid holidays and flexible hours, so dipping our toes into the remote working waters (which will be teeming with 50% of the world's employees by 2020) seemed like a logical next step.
That's why Bynder Remote Week came to be in 2017, and why we're doing it again: it's something Byndies look forward to, and, from an organizational standpoint, it allows us to test that our cloud-based tooling and processes can get the job done when we're not all under the same roof.
Via two post-Remote Week surveys, it's been fascinating to hear about the varied experiences of different departments and roles. Our developers, for example, missed the double-screen set-ups at their desks, and the marketing team, who often work on group projects, missed their colleagues.
That's why we've offered access to our offices for those suffering withdrawals, secured desks at WeWork in several different cities, and organized an offsite summit for our marketers (at the beach, of course!).
This year, we're encouraging the team to spend time otherwise taken up by commuting or meetings of questionable value on professional development. After all, we focus so much on clients and colleagues at work—it's tricky to carve out even 20 minutes per day to simply reflect on our careers, learn or hone a new skill, and stay up-to-date on industry and market trends.
That's where LinkedIn Learning comes in. It's an online educational platform that helps people discover business, creative and tech-related skills via everything from bite-sized videos you can eat up over your lunch break to comprehensive, expert-led courses (and your first month is free). During Remote Week, Byndies have an all-access pass to learn HTML, master Microsoft Excel or Photoshop, grasp the basics of graphic design, develop strategies for curing writer's block, and much, much more.
So apart from working, learning, family time, and evening out our tan lines, what will we be getting up to this week? Keep an eye on Instagram (@bynderlove) for photos and updates, and see what our executive team have got on the cards below.
Shelley Perry (CEO)
During Bynder Remote Week, I will be doing two things:
1) On Sunday I will be in Las Vegas attending a Board Session with Checkmarx during the pre-Black Hat Conference - I am hoping to drive a race car as part of the Checkmarx Customer Event
2) I will be spending the rest of the week in my home office in San Francisco. As I travel so much, being home is my 'remote' and I look forward to no commute and quality focused work time - including a session with the Bynder Board
I hope you will all enjoy your Remote Week from wherever you are, be it from the comfort of your home or some distant exotic location. Regardless of location, may it be a week of good productivity and learning - Bynder is better because of the effort and energy each of you bring every day. Please invest your commute time in whatever helps you to continue to generate energy and be the best you!
Marianne Spaans (Global People & Talent Director)
I will spend Remote Week in my favorite chair in the garden. It's close enough to the house for WiFi - and I will be keeping a watchful eye out for weeds. I am particularly keen to keep the weeds at bay this time, as our garden will be a special location at the end of Remote Week. It is where Pieter and I will get married on Saturday 10th August.
During the week, I will also re-read some of the chapters of an old classic business book called 'Scaling Up' by Verne Harnish - every time I read this there are things I have missed. I also just love the confirmation that the growing pains we may feel are part of an evolving organization which is going from strength to strength.
Talking to some German-Amsterdam Byndies the other week, I noticed my German language skills have reduced to being able to understand, but no longer speak. Sad face! Not commuting will save me 3 hours a day, so I will be using LinkedIn Learning and other online tools to work on my conversational German - in between keeping an eye on those weeds and decorating the garden with colourful bunting and balloons.
Happy Remote Week Byndies - I continue to think you are amazing! Let's all keep working on unlocking that potential within.
Bob Hickey (COO)
We will be on holiday during Remote Week, enjoying time with family and friends before my kids have to go back to school. We will be in Cabo San Lucas: swimming, ATVs, reading, playing golf and lots of Mexican and seafood! Maybe some tequila too.
Jason Knapp (General Counsel)
I'm looking forward to my first Remote Week at Bynder. Remote Week landed in the middle of a longer trip to the US so I will spend the week with family in Seattle. It would be lovely to lay in the backyard hammock and work on privacy and corporate governance projects, close to raspberry and blueberry bushes. But I work better at the dining room table - a good place also to strategize about how to eat a year's worth of tacos in a few weeks on the US west coast.
I'll spend Friday by the water in lovely Port Susan where I can jump in a kayak when I need a break. I am also excited to spend some time with LinkedIn Learning this week - I'm carving out time for two topics. I'll choose one familiar, fundamental topic for a general counsel and one that's entirely new to me.
Kevin Broom (CPO)
This is my first Remote Week and I must start by saying: what a unique and wonderful facet of the Bynder culture. Due to child commitments, I am less mobile than I would have preferred in selecting a location. So I will not be working anywhere exotic or remote.
For example, I will not be in a vineyard just under the Jura at sunset which may be my favorite spot in the world (I have worked there…I promise).
I will also not be working while watching the sunrise over the intercoastal in Florida which is where I write this bulletin update on a bit of holiday.
I will be using my trusty hotspot and secure WiFi where I can find it to spend Remote Week in New York City. I have learned through others that I have taken my current home a bit for granted and that I have the privilege to live in a really amazing city. So, I will begin the day either on the deck or at my local diner and progress into the city into various places that I have yet to visit throughout the week. My goal is to target quiet places throughout Manhattan. Central Park, Upper East Side, Greenwich Village. I may even get cheeky and go to Brooklyn and see what the fuss is all about.

My goal for the week is to complete work on vision, roadmap, and upcoming go-to-market launches.

Here's to another successful #BynderRemoteWeek!

So, let's celebrate, Byndies. We work for an incredible company that strives for innovation for our customers and our employees. We are on a truly unique journey together. I can't wait to see all of the exciting places we get to visit along the way.
---

---